To Bach - Advanced Help
This page will provide further help on issues relating to To Bach. At present, these are the key sequences to access less common characters and issues related to using To Bach on non-UK keyboards. Other topics will be added as they arise. Please also see our FAQs page for further information.
If you have a compatibility problem, please visit our compatibility page.
Keyboard Layouts
We have designed To Bach around the standard UK keyboard layout. Minor variations exist in the keyboard layouts for other countries and so the To Bach key sequences will also vary slightly.
As issues are reported to us, we will either publish the alternate key sequences here or enhance the To Bach utility to support the variety of keyboards. If you have a problem with a non-UK keyboard that isn't addressed below, please contact us.
Issues identified to date:
US Keyboard: This keyboard doesn't have an AltGr key. However, the key sequences will still work if you use Ctrl + Alt instead. i.e. Ctrl + Alt + a will access the â character.
Other Characters
We have defined the key sequences to be the simplest possible for the most common characters. However, there are a number of other characters with accents, umlauts (diaresis) and other diacritic marks in the Welsh language. These are all supported and below are the key sequences that will access them:
Capital letters can be obtained by using the shift key at the same time as pressing the letter key.
Acute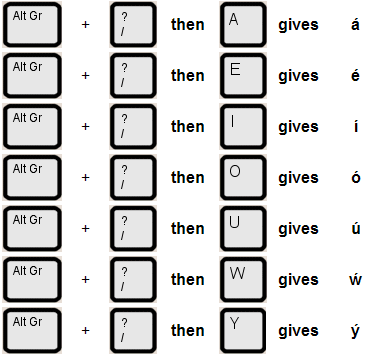 Grave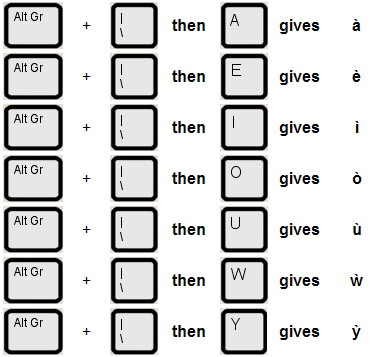 Diaresis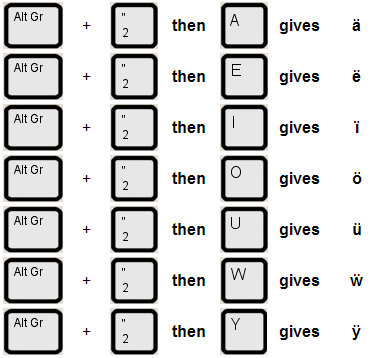 Tilde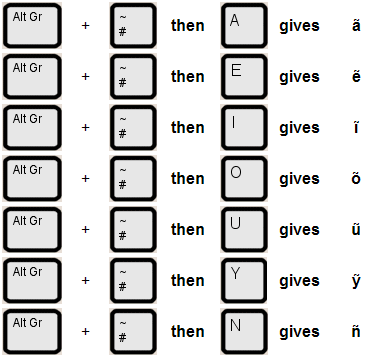 Other